So, you want to know who I am...
---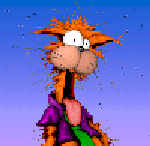 Sorry! I couldn't get a self-protrait on the web, so this will have to do. (Psst...this is the closest thing to what I looked like during finals when I was in college!) Anyway, thanks for dropping by. I'm a UCLA graduate who majored in Political Science. I grew up in beautiful Hawaii on the island of Oahu before moving to California for college. I went to Punahou High School , rivalry of Iolani.
Hobbies:
Collecting stamps, stickers, and stationery. Also baking/making desserts, watching movies, listening to music, surfing on the net, writing letters, and playing King's Quest. Oh yes, my all-time favorite: sleep - which I don't get enough of these days...
Music:
Fan of soft rock, alternative, classical, and new age music. I used to play the piano and cello. (Yo-Yo Ma rocks!)
Sports:
Thinking (Does that count? It's a mental sport...), walking, some tennis, and very rarely, rollerblade or try to. (I think mine are rusting in the closet from lack of use...) I don't surf and probably never will. (It's just a steretype about people from Hawaii. And to add, we DON'T live in grass huts and wear hula skirts.)
Favorite color:
You probably guessed it from this page. (How patriotic!) I'm also into pastels.
Favorite actors:
Favorite actresses:
Favorite movies:
Favorite sitcom:
Favorite food/snack:
Food Shivers:
Recently overcame my fears of eating Sashimi or "raw fish" and fried soft-shelled crabs. Hmmm, can't think of any right now...
Pet Peeves:
Smoking (sorry, can't stand it)

People who don't flush after use (you guys potty-trained?)

Tailgaters (you guys are lucky to even BE alive!)
---
So, now that you've learned who I am, tell me about yourself!
---
SAY CHEEEEEESE!
---